FOR QUESTIONS OR INFORMATION PLEASE EMAIL OR CALL:
PA GOVERNOR'S STEM COMPETITION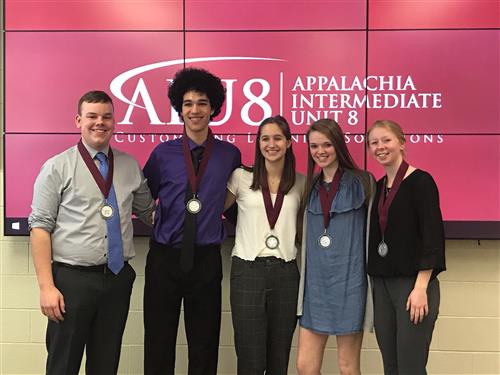 This year's theme for the competition is "Improving Pennsylvania Through STEM." The 2019 state competition will be held May 9-10. Teams of high school students from across the state will be challenged to research, present, and design a device or project that can make the quality of life better for citizens of Pennsylvania. The device will accomplish a series of practical tasks that can be translated into real life needs. High school teams will be provided with a $500 stipend to design and build a prototype of their device.
In the identification and research of a team's authentic problem, students will engage with their local communities to learn about STEM-related careers. Developing solutions to problems rooted in the community will build the skills necessary for students to be successful in postsecondary STEM opportunities.
To culminate the experience, students will be asked to present their findings and explain the practical applications of their device to a panel of judges. The challenge will test teams' communication, problem solving, and critical thinking skills while providing a unique opportunity to share their creativity with students from across the state.
The competition is open to students in grades 9 through 12 attending public, charter, private, and career and technical education centers in Pennsylvania. Schools will select a team of up to five students. Students will work under the guidance of a teacher mentor approved by the school.
Date: February 20, 2020
Location: Juniata College, 1700 Moore Street, Huntingdon, PA 16652
Team Information
Team Commitment and Student Registration
Student Permission Form
CANCELLATION POLICY:
District/Team WILL NOT be invoiced if the event is cancelled by the IU due to low enrollment
District/Team WILL NOT be invoiced if the participant cancels at least 7 days prior to the start of the event.
District/Teams WILL BE invoiced the FULL COST if the participant cancels with less than 7 days notice of the start of the event or if the participant simply does not attend.